Wolfgang Puck and I have seen each other backstage at HSN for more than 14 years.
He always has a smile and something fun to EAT – In these photos, he was amazing to my daughter Makenna and enjoyed SpinGym
                   BIOGRAPHY
The name Wolfgang Puck is synonymous with the best of restaurant hospitality and the ultimate in all aspects of the culinary arts. The famous chef has built an empire that encompasses three separate Wolfgang Puck entities: Wolfgang Puck Fine Dining Group, Wolfgang Puck Catering, and Wolfgang Puck Worldwide, Inc.
Puck began cooking at his mother's side as a child. She was a chef in the Austrian town where he was born, and with her encouragement, Wolfgang began his formal training at fourteen years of age. As a young chef he worked in some of France's greatest restaurants, including Maxim's in Paris, the Hotel de Paris in Monaco, and the Michelin 3-starred L'Oustau de Baumanière in Provence. At the age of 24, Wolfgang took the advice of a friend and left Europe for the United States. His first job was at the restaurant La Tour in Indianapolis.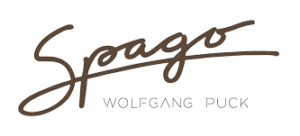 Wolfgang came to Los Angeles in 1975 and very quickly garnered the attention of the Hollywood elite as chef and eventually part owner of Ma Maison in West Hollywood. His dynamic personality and culinary brilliance that bridged tradition and invention made Ma Maison a magnet for the rich and famous, with Wolfgang as the star attraction. He had an innate understanding of the potential for California cuisine, and was pivotal in its rise to national attention.