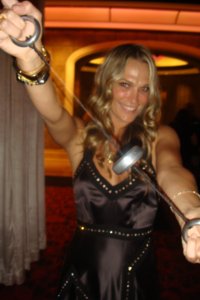 Actress, model, active humanitarian, and mom! 
and yes, a SpinGymer!
Molly Sims is recognized for her work as an actress, model and active humanitarian. Sims is also often noted for her savvy sense of style and fashion, is expanding her list of credits with her upcoming book, The Everyday Supermodel. The book is the ultimate girl's guide to everything fashion, fitness, diet, and lifestyle. Additionally, she founded the eponymous jewelry collection aptly named Grayce by Molly Sims, which made its exclusive debut on HSN in the Fall of 2009.
As an actress, Molly Sims successfully transitioned from supermodel to thespian by playing the manipulative Delinda Deline for 5 seasons on NBC's hit television series, "Las Vegas." In addition to her successful television career, Molly has also appeared on the silver screen in feature films including the 2008 hit, "Yes Man" starring Jim Carrey, "Fired Up" with John Michael Higgins in 2009, "The Benchwarmers," produced for Revolution Studios by Happy Madison Productions' Adam Sandler and Jack Giarraputo, as well as "Starsky & Hutch." Sims hosted Lifetime's competition series "Project Accessory," an eight-episode, hour-long series with 12 aspiring artists vying to break new ground in the world of accessories.
Molly's acting career began to soar after she landed the coveted role as host on MTV's House of Style. In addition to her contract with MTV at the time, Sims gained even more recognition after signing an exclusive, multi-year contract with CoverGirl Cosmetics joining an elite group of spokeswomen. Furthermore, the Southern beauty received just as much attention and admiration from her Old Navy commercials and, of course, her sultry images in Sports Illustrated Swimsuit Issue four years consecutively.
A native of Murray, KY, Sims attended Vanderbilt University with aspirations of becoming a lawyer until her roommate urged her to submit several photos to modeling agencies in New York. Before she knew it, NEXT Models signed Sims and thus began her modeling career. Shortly thereafter, she graced the covers of Mademoiselle, French and Spanish Vogue, Tear sheet, French Cosmopolitan and British Marie Claire. In the meantime, Sims was working with some of the most prestigious photographers in the fashion world including Carter Smith, Michael Thompson and Raymond Meier.
Perhaps most recognized for her images on the cover of the internationally renowned Sports Illustrated Swimsuit Issue 2001 throughout Europe, Molly is also admired by the corporate world. She has been featured in advertising campaigns for CoverGirl, Jimmy Choo, Old Navy, Michael Kors, Victoria's Secret, M&Ms, Nautica, Armani, Chanel and H&M.
Although her full time residence is now in Los Angeles, Molly spends as much time possible in New York City, the city she considers her second home. In her free time, she enjoys hanging out with friends, hiking, yoga, and spending time with her family and her son, Brooks.