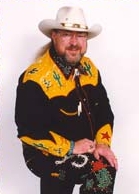 Dubbed "Cactus" Jack by his father as a precocious five-year-old, Jack Barringer has always had the type of personality that electrifies a room and a flair for the dramatic that is summed up best in one of his favorite sayings: "It's not done until it's overdone."
Today, Cactus Jack is an entrepreneur, inventor, salesman, and CEO at Cactus Jack's Marketing, a product sourcing and promotion firm based in Ames, Iowa.
Acting like PT Barnum and looking like a cross between Roy Rogers and Grizzly Adams, Cactus Jack has spent a lifetime taking the road less traveled. That road has led to millions of dollars in sales for products featured on home shopping networks like QVC, in infomercials, and offered in online and bricks-and-mortar retailers.
Never one to discount the importance of graduating high school second in his class – he readily admits it was his strong personality that led him to close his formal schooling second from the bottom – it is Cactus Jack's flair, combined with his connections in the product sourcing business that make him a powerful player in getting new products to market.
Author of the book How to Get and Market Million Dollar Ideas, Cactus Jack has appeared on dozens of network television productions, most recently the reality show "Shark Tank" on ABC. On the program, Cactus Jack partnered with investors Barbara Corcoran and Kevin Harrington to bring the Body Jac – an exercise machine invented by Cactus Jack – to the masses
Cactus Jack holds more than a dozen patents, and the products he has brought to millions of homes internationally include:
One-Shot Cleaning Products
One-Shot Fishing Product
Monster Arm Wrestling Machine
Uncle Tug's Tug of War Machine
In addition to his work breathing life into products to get them to market, Cactus Jack is a popular speaker, giving seminars on motivation, success, and marketing to a broad range of audiences including university marketing classes, corporations, and the Service Corps of Retired Executives (SCORE).
Cactus Jack's "life strategy" has evolved from a deep understanding and appreciate for the works of author Napoleon Hill, including his landmark work Think and Grow Rich. In his personal life, Cactus Jack is just as flamboyant as his is when appearing on network television.