This could be one of my FAVORITE reviews on SpinGym – found on Amazon
I have been using the Spin Gym this past month and have really taken to this little gadget with the big results. I have arthritis in my lower back so lifting big, bulky, heavy weights is not an option for me anymore (and I'm in my mid 30s). I have to be careful with what I do, and what I love about the Spin Gym is that I can still work my chest, back, arms, even abs and legs all with one functioning and functionable product. And guys….don't think you won't get an amazing workout!!
You get so much bang for your buck with Spin Gym. You get two workout DVDs that creates variety and challenge. You can use it at your own pace. You can get up to 20 lbs. of resistance depending on the rate your spinning. My favorite exercises are "hugging a tree", "climbing a ladder", "arrow", and "lawnmower". When I do the abs workout, trying to do a crunch and keeping Spin Gym spinning is a challenge that my core feels…my abs know they're being worked. You also get the travel bag, extra cord (you can also get replacement cords through Forbes' website), and instruction manual containing directions on how to get going with the Spin Gym plus exercise descriptions. And I love the fact you can get an arm workout you can really feel all within a 5 minute time frame. Who knew 5 minutes could be enough to get a great burn in those arms!!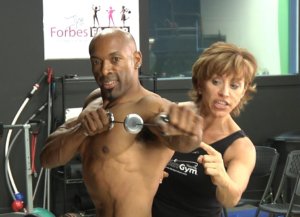 I love to do a good brisk walk and then follow up with my Spin Gym workout, followed by a good stretch. I'm noticing definition in my biceps and triceps and chest. My back is gaining muscle. I'm so grateful for this product, and it's only been almost a month.
I want to thank Forbes Riley for bringing a product that does what it sets out to do, for giving us an alternative to lifting heavy weights, for bringing fun back into working out, and for inspiring so many with her commitment to health and well-being.
---