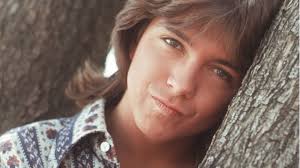 I'm so sad — he was my first CRUSH!
David Cassidy, the wildly popular '70s heartthrob who shot to fame when he starred and sang in TV's "The Partridge Family," is in critical condition with organ failure.
Cassidy is being treated at a Fort Lauderdale, Florida, area hospital…
"He is conscious and surrounded by family and friends, nothing is imminent and we are taking it day by day," Geffen said.
She did not say what caused the organ failure.
Cassidy, 67, told People magazine earlier this year he was battling dementia.
A '70s superstar
"The Partridge Family," a sitcom about a mother and five children who formed a rock 'n' roll band, gave Cassidy a national audience for his music. Cassidy, who played Keith Partridge on the show, captured the spirit of 1970s youth.
His wispy voice and wholesome persona broke out from the small screen. At the time, his fan club reportedly was bigger than those of Elvis Presley and The Beatles.
The singer toured the world singing his hit songs, such as "I Think I Love You," filling concert halls with screaming teenage girls.