What a treat to appear on Hallmark's Home and Family with my old friends Mark and Christine.  We talked health and fitness, got everyone SpinGyming and a blast!  Thank you Woody Fraser and Debbie Supnick!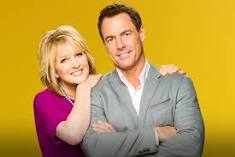 Mark Steines
Steines was the long standing co-anchor of the number one syndicated entertainment news magazine show "Entertainment Tonight." Steines has been at the forefront of industry news for over a decade, interviewing hundreds of Hollywood's biggest stars over the course of his career.
Although Steines was flattered to be named to People Magazine's coveted "Sexiest Men of 2004" roster, as well as one of Men's Fitness Magazine's "25 Fittest Men in America," he takes more pride in the journalistic honors and accolades that adorn his shelves. A four-time Emmy nominee and three-time winner, his first came for the KCAL special "Beyond Endurance: Madagascar," for which he also won the Golden Mic Award; his second came for "Beyond Endurance: Borneo." He was awarded with a National Iris Award for outstanding reporting and garnered national recognition by the Women's Sports Foundation for his fair and impartial reporting on the Women's National Football League.
Christina Ferrare
In the early 80's, Ferrare co-hosted "AM Los Angeles," which was the #1 rated morning television show during her five year tenure. Between many TV appearances, she has hosted her own shows "Cristina and Friends" and a two hour live show from Universal Studios' "Home and Family." She was a substitute co-host on "Good Morning America" and co-hosted numerous times with Regis Philbin on "Live with Regis and Kathie Lee." Her primetime series for CBS, "Shame on You," was one of the first magazine format shows that featured consumer fraud and awareness. It set the stage for other prime time magazine formats that followed.
For NBC, she co-hosted "Men are from Mars, Women are from Venus" with Dr. Drew Pinsky. At one time, Ferrare had three shows on the air at the same time: the afore mentioned live morning talk show, "AM Los Angeles," "The Home Show," and the primetime series "Incredible Sunday" all for ABC. In feature films, she starred opposite David Niven in "The Impossible Years" and the critically acclaimed "J.W. Coop" with Oscar® winner, Cliff Robertson.
Ferrare is an accomplished author, with her New York Times bestseller, Okay, So I Don't Have a Headache and bestseller Cristina Ferrare's Family Entertainment, Cristina Ferrare Style and Realistically Ever After, a humorous view of finding happiness when he's not Prince Charming, you're not Snow White and life is not a fairy tale.