Fun to play military… in the movies!
Movies with Female Military…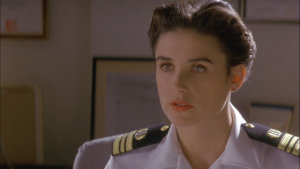 DEMI MOORE AS LT. COMMANDER JOANNE GALLOWAY IN A FEW GOOD MEN (1992)
So what if we can't handle the truth? We'd prefer to try our luck with the future Ms. G.I. Jane, anyway. Short-haired women don't always raise our flags but Moore makes it work. In A Few Good Men, she spends the bulk of the movie brooding and acting under high pressure. In every scene, she's ready to blow off steam, but just can't do it. We'd gladly unbutton the top of that highly-decorated white shirt and show her what R&R is all about.
MEG RYAN AS CPT. KAREN WALDEN IN COURAGE UNDER FIRE(1996)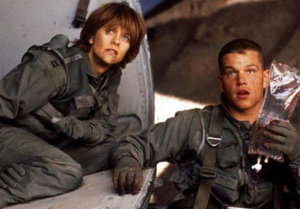 While we enjoy Ryan's topless work in In the Cut, we also love her in military garb. The reason: Prior to nip/tucks and injections, she was one of Hollywood's most slept-on hotties (you can quote us on that), and her God-given cuteness contrasted well with the ruggedness of Army attire. It's an exercise in positive subversion. You might think she's harmless, but—BAM!—she'll pull rank on you with the quickness. Sometimes it pays to be a lowly recruit following a fine woman's orders.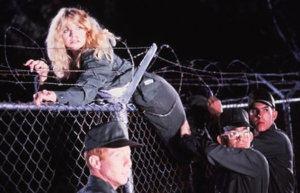 GOLDIE HAWN AS PVT. JUDY BENJAMIN IN PRIVATE BENJAMIN(1980)
With so much intensity surrounding the armed forces, some comic relief can't hurt—that's where our girl Goldie comes into play. As a rich girl out of her element in the Army, She's the type of recruit who might hide in a foxhole when the going gets rough. Who wouldn't want to be Captain Save-A-Hawn?
ANGELINA JOLIE – CDR. FRANKY COOK IN SKY CAPTAIN AND THE WORLD OF TOMORROW (2004)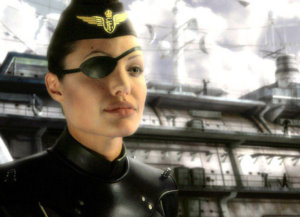 Oddly, we kind of prefer Angie with an eyepatch. After all, her lips are the main attraction, so the obstruction of her one pupil draws more attention to those pouty kissers, and there's nothing wrong with that. As fighter pilot Franky, Jolie flies right into our dirtiest thoughts, lands safely, and establishes residence. And we can't get enough of her, ahem, cockpit expertise.